Veterinarian Honored For Giving Back to Veterinary Profession, Students & Others
Germinder + Associates has named Arne Zislin, VMD, MBA, Technical Services Manager and Academic Liaison Veterinarian, as the final Germinder20 Power of Pink Honoree of the year to receive the award. Zislin is a former American Association of Feline Practitioners board member and a longtime champion of student mentoring and academic development in both his personal and professional life. He has designated the $1,000 Honoree donation to the International and Immigrant Student Services (IISS) at Johnson County Community College (JCCC).  To read more about Dr. Zislin's story, click here #Germinder20 #PowerofPinkHonoree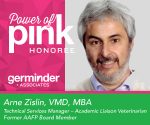 "I am so thrilled to conclude Germinder's anniversary year by honoring Dr. Zislin. I can sing his praises to the moon and back about his great counsel to me about complex veterinary issues from the time I launched Germinder + Associates, but it is his passion for helping generations to come find their way – be it future veterinarians or not that I have always admired. His "dogged" persistence to find the funds to develop programs that will make a difference in the lives of so many is to be commended. He brings value, meaning and depth to every relationship, every organization he touches," said Lea-Ann Germinder, APR, Fellow PRSA, President and Founder of Germinder & Associates, Inc.
Dr. Zislin was a technical services manager at Fort Dodge Animal Health when Germinder launched several pharmaceutical and vaccine programs. They worked collaboratively on several strategic initiatives that led to the development of award-winning programs together including a program called "Healthy Cats for Life" with the American Association of Feline Practitioners, one of the early forerunners of feline wellness programs.
"In accepting his Germinder20 Power of Pink honor, Dr. Zislin said, "Lea-Ann and I have known each other and collaborated together for a long time. I am honored to be among my veterinary colleagues that have received this award this year and grateful that the donation will help students who are truly in need. Thank you Lea-Ann and Germinder + Associates."
Dr. Zislin has twenty-two years experience in the animal health industry with Fort Dodge Animal Health and Boehringer-Ingelheim providing technical support and liaison with key opinion leaders. He has successfully participated in numerous product launches and provided subject matter expertise. Two successful projects of note are his development of an Academic Liaison Program to veterinary colleges and the development of distributorships resulting in significant sales growth and key relationship building in Eastern Europe and in particular in the Czech Republic.
He is a strong advocate of membership in organized veterinary medicine and is a member of the American Veterinary Medical Association, the American Association of Feline Practitioners (Board of Directors 2019-2014), the International Society of Feline Medicine, the Kansas Veterinary Medical Association and the Kansas City Veterinary Medical Association.
To read the full release, click here.