Category Archive: Goodnewsforpets 20th Anniversary
Christina Rabadan of Scottsdale, GA (a.k.a. @Confessionsofacrazycatlady) is the winner of the Charmed by the Love Goodnewsforpets 20th Anniversary Contest Grand Prize Package. Rabadan, a rescue volunteer, won the second Charmed by the Love contest.
As the recipient of the Grand Prize, Rabadan wins $500 in product from Goodnewsforpets 20th Anniversary Contest partners Purina Tidycats, Sleepypod, and Fetch for Pets. She also wins from Goodnewsforpets two items featuring her choice of her beloved Siamese mix or Syphinx cat breed, a pair of Elena Kreigner designed Heart-Paw earrings and the best yet, a $2,000 donation made in her name will be split between two rescues: Angels Among Us Pet Rescue and Bald and Bully.
The contest was featured throughout 2020 in honor of Goodnewsforpets.com's 20th anniversary. Pet lovers had a chance to win a versatile Goodnewsforpets.com Heart-Paw Charm exclusively designed by Elena Kriegner, a choice of a prestigious American College of Veterinary Behaviorists (ACVB) Decoding Your Dog or Decoding Your Cat book, a special partner prize, and a personal donation to a local shelter or rescue of each individual winner's choice. The local shelter or rescue was also highlighted on Goodnewsforpets.com. In joining the contest earlier in the year, then ACVB president said,
"ACVB is pleased to join Goodnewsforpets.com in celebrating its 20th anniversary with the Charmed by the Love contest. Unwanted behavior is the number one reason dogs and cats are relinquished to shelters and we welcome the opportunity to have one more way to educate the public about the importance of solving pet behavior issues with science-based training,"said Ellen Lindell, VMD, DACVB, president of ACVB.
For two decades, Goodnewsforpets.com has celebrated the pet-loving community with direct donations and storytelling with posting of content, services and contests that feature donations to shelters and/or rescues of each winners' choice. Brands and affiliate programs underwrite the site with sponsored content. To find out more about the Goodnewsforpets.com digital platform and how to participate in this contest, brands and organizations can contact Lea-Ann Germinder directly at Lgerminder@goodnewsforpets.com.
"Thank you to all our partners, all who entered the contest, and the Goodnewsforpets community. We were thrilled to offer a contest that celebrated the love of our pets, educated about behavior and helped less fortunate pets find their forever homes," said Lea-Ann Germinder, Founder and Publisher of Goodnewsforpets.com.
Goodnewsforpets.com is the animal health and pet product publishing platform of Germinder + Associates, Inc. It combines an award-winning website and social media channels to curate news of interest and importance to pet parents, veterinary professionals and the pet industry. Editorial, contests, sponsored content distribution and advertising is available. Contact Lea-Ann Germinder at Lgerminder@germinder.com or 917-334-8682. Like us on Facebook and Follow us on Instagram and Twitter. #Goodnewsforpets20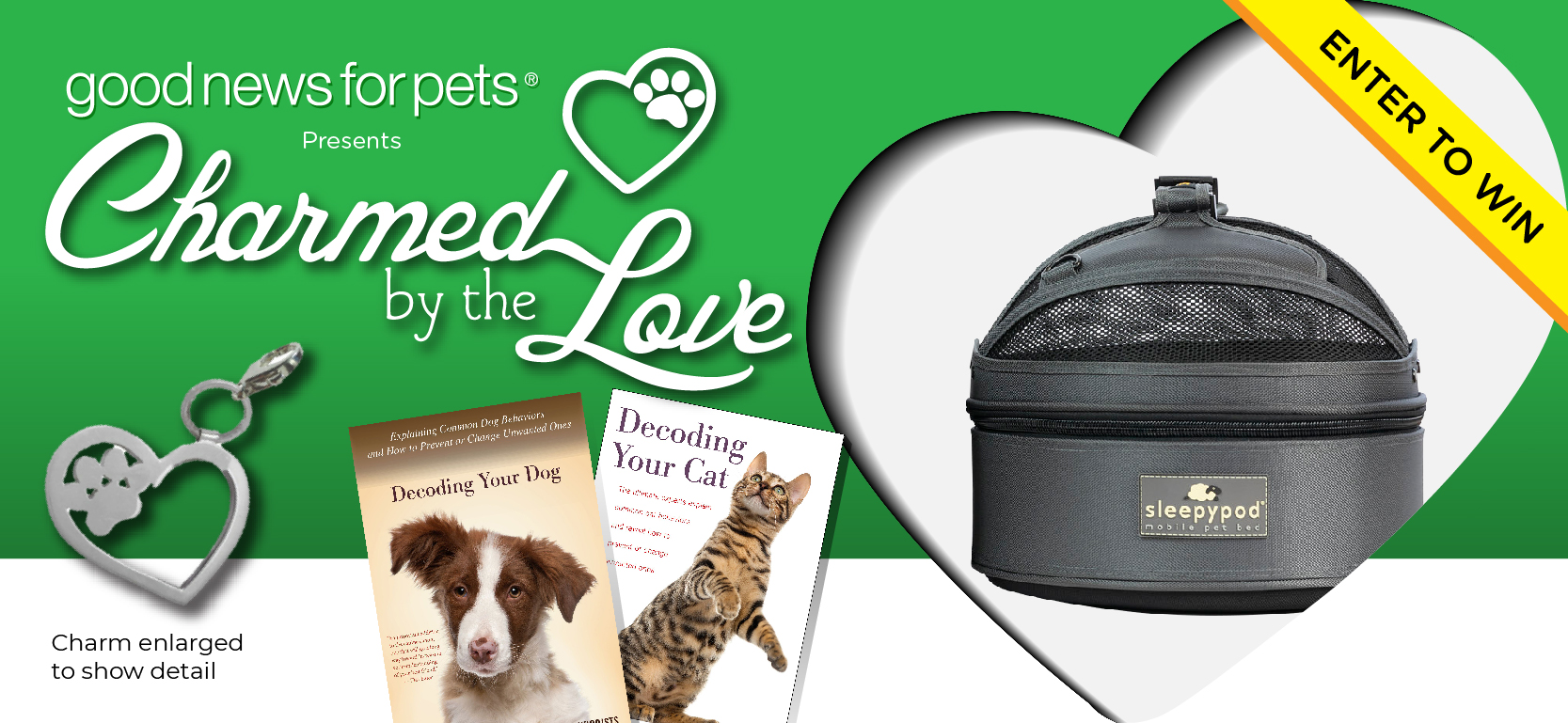 Germinder + Associates' digital pet/vet news platform, Goodnewsforpets.com has launched it's next Charmed by the Love Contest.This contest features the luxurious Sleepypod Mobile Pet Bed. The winner will also receive a Goodnewsforpets.com Heart-Paw Charm, a choice of a prestigious American College of Veterinary Behaviorists (ACVB) Decoding Your Dog or Decoding Your Cat book.
Sleepypod will also donate a second Sleepypod Mobile Pet Bed along with the Goodnewsforpets $100 donation on behalf of the winner to a local shelter or rescue of the winner's choice. The local shelter will also be highlighted on Goodnewsforpets.com. To enter this Charmed by the Love Contest, click here.
(New York – January 30, 2020) – Germinder + Associates, Inc. today announced the kick-off of the 20th anniversary celebration of Goodnewsforpets.com®. The award-winning site was originally launched February 20, 2000 at the Western Veterinary Conference (WVC) in Las Vegas. The site has changed with the times, but in 2000, the site featured a virtual newsroom sponsored by Merial to complement the traditional newsroom – an innovation at the time.
"While I was at WVC, the launch of our newsroom on Goodnewsforpets.com was an integral part of becoming a more technologically advanced organization. As my team and I launch VMX Virtual at VMX 2020, I congratulate Lea-Ann and her team not only on their anniversary but their commitment to evolve as well. We've all come very far in the last 20 years," said Manolita Moore, Vice President and Co-Innovator of VMX Virtual, North American Veterinary Community.
The 2000 site included the Cat Writers Association and the Dog Writers Association of America as the first media partners with Steve Dale as the first featured columnist. The National Association of Veterinary Technicians in America, Fort Dodge Animal Health, the American Animal Hospital Association and Addison Laboratories were featured on the site. Other exhibitors at the conference could post their news in addition to ".com" companies in the "Discovery Zone."
"At the time there was just so much negativity out there we needed what pets give us every day, and that's good news," says Steve Dale. "I was instantly intrigued and happy to support the upbeat vision of Good News for Pets." Read the full release here.
Categories
Archives
Follow Germinder
Follow Good News for Pets