Category Archive: Marketing & PR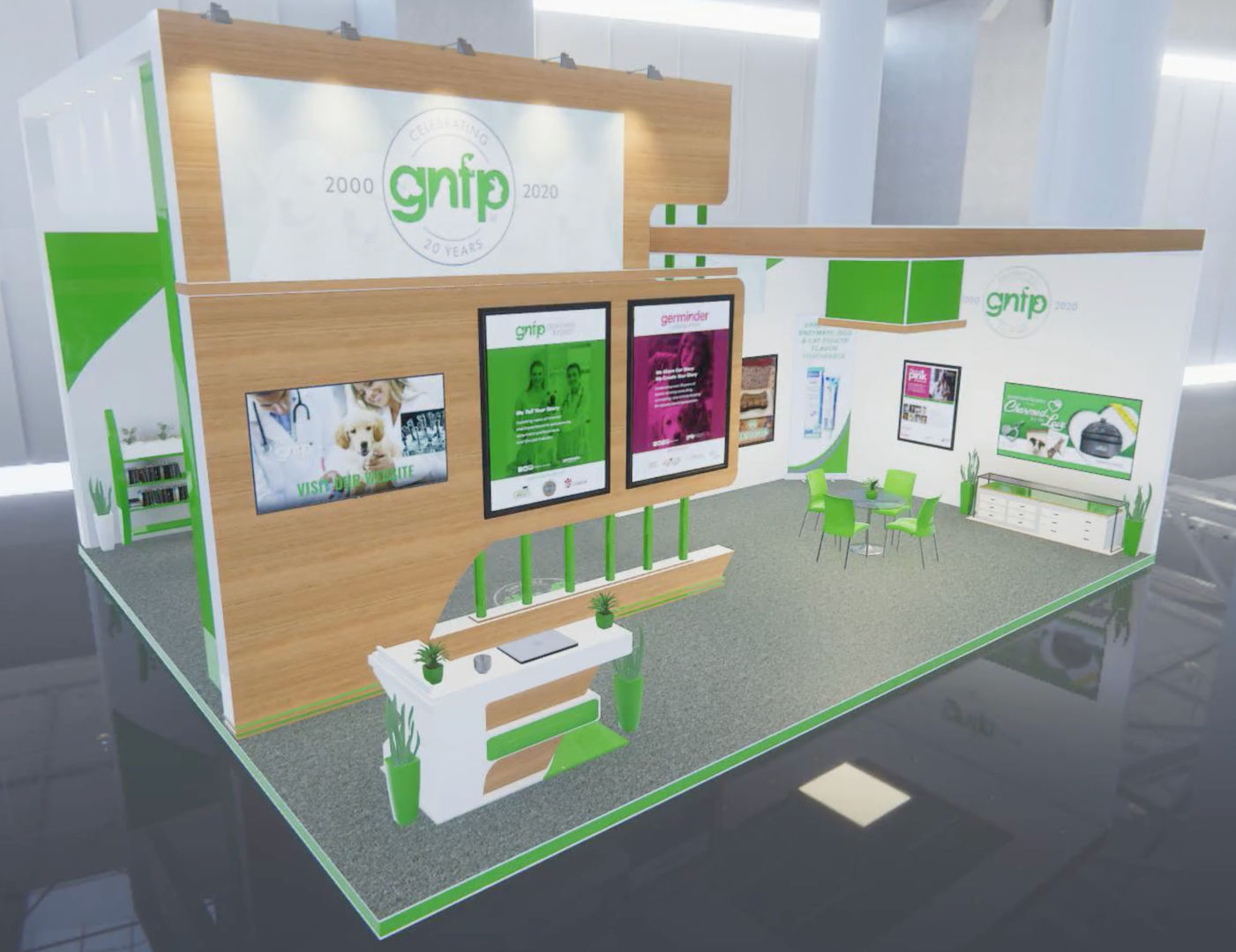 PR Expertise, Content, Contests, Interviews, Products Showcased
Goodnewsforpets, (www.goodnewsforpets.com) the digital pet/vet platform for Germinder + Associates, is extending its COVID-19 content and 20th anniversary program to include additional online outreach to the veterinary community with the launch of its VMX Virtual booth. Parent company Germinder + Associates, Inc.'s Power of Pink Honorees are also featured in the booth.
VMX Virtual is a 3D, immersive and interactive platform launched January 8 by the North American Veterinary Community (NAVC). During these extraordinary challenging times, the concept is helping transform the trade show industry experience, connecting conference exhibitors and attendees 24/7, 365 days a year. As a veteran communicator, Goodnewsforpets publisher and founder Lea-Ann Germinder, APR, Fellow, PRSA understands the critical need to be on 24/7 now more than ever before.
"We are thrilled to have a VMX Virtual booth and participate in this break-through technology. In addition to publishing Goodnewsforpets for twenty years, we've communicated and handled crisis comms for many veterinary organizations. But communicating about and during this COVID-19 global pandemic is different. It affects all of us, all the time. We invite the veterinary community to come visit us at our VMX Virtual booth to see how we can best work together during these challenging times," said Germinder.
VMX Virtual is powered by a highly sophisticated and award-winning technology company Simulocity, LLC. Simulocity was founded by Dr. Manny Dominguez, a former CIO for the U.S. Air Force's Global Medical Modeling & Simulation Program and architect of a virtual reality-based hospital for the U.S. military. He is a pioneer in the areas of simulation technology, gamification, and immersive platforms. As CEO of Simulocity, he's led the organization to numerous industry awards including Top 10 Simulation Solutions Provider.
"The time has arrived to complement your existing shows with a truly immersive and virtual presence. Now we can infuse new revenue streams and increase access to exhibitors, products and a myriad of services, year-round! Our groundbreaking platform makes attendees feel "Virtually There" and for exhibitors…well, the show no longer ends on Friday, said Dr. Manny Dominguez, Founder & CEO, Simulocity LLC.
VMX Virtual introduces advanced gamification and simulation technology and applies it for the first time to the virtual trade show industry. With companies spending $97 billion a year on trade show exhibitions in the U.S., this "On-Demand" platform provides a new way to reach and engage customers and opens the door for conference attendees to see everything they want, spend quality time at each exhibit, and expand the number of employees that can affordably "attend" and experience a trade show.
In a related interview on Goodnewsforpets about VMX Virtual, Manolita Moore, Vice President, Exhibit Sales & Operations, NAVC, sees a benefit to the pet owner.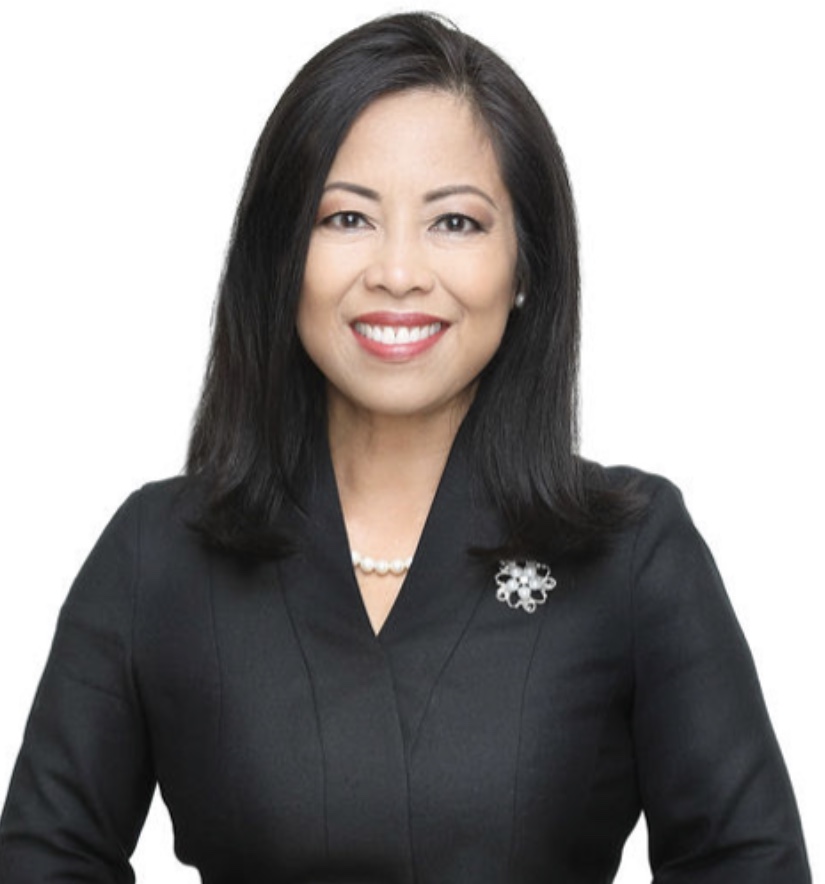 VMX, the world's largest and most comprehensive veterinary conference with more than 700 exhibiting companies and 17,000 attendees from 80 countries, opened its virtual exhibit expo hall to the veterinary community with long-time industry partner Hill's Pet Nutrition Inc. as its inaugural VMX Virtual Exhibitor. VMX Virtual is not a replacement for the live exhibitions, but rather an extension and additional year-round engagement opportunity for both exhibitors and attendees. The NAVC is the first to introduce this capability in the veterinary field.
"If veterinary professionals have access to current products and services, it also means they will be seeing the latest products and innovations in the veterinary industry throughout the year from a trusted organization such as NAVC. By having easier and faster access to this type of information, veterinary professionals will save time, money, and be able to focus and provide better care for their patients. Ultimately the pet owner will benefit from this new technology."
Companies and organizations can learn more about VMX Virtual on the NAVC website here or if ready to book a booth, click here.
Goodnewsforpets.com is based in New York City and Kansas City. The digital publishing platform of Germinder + Associates, Inc combines an award-winning website and social media channels to curate news of interest and importance to pet parents, veterinary professionals and the pet industry. Contests, sponsored partner content, hot products, guest interviews are featured and advertising is available. Germinder + Associates provides traditional and digital communications services. Contact Lea-Ann Germinder, APR, Fellow PRSA at Lgerminder@germinder.com or 917-334-8682. Like us on Facebook and Follow us on Instagram and Twitter. #Goodnewsforpets20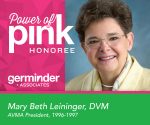 Honoree Story Celebrates Fifty-Years of Service
From Private Practice to First Woman President of the AVMA to
Industry Leader & More  
New York – July 26, 2018 — Germinder + Associates has named Mary Beth Leininger, DVM, a veterinarian for more than five decades and the first woman president of the American Veterinary Medical Association as the seventh #Germinder20 #PowerofPinkHonoree to receive the award. Leininger has designated the student scholarship fund at Purdue University's College of Veterinary Medicine to receive the $1,000 Germinder Honoree donation. #Germinder20 #PowerofPinkHonoree
"Dr. Leininger is beloved by her colleagues, she excels at everything she does, and her love of veterinary medicine knows no bounds. My gratitude to this amazing Honoree deepens with every passing year. She epitomizes all that is right with veterinary medicine, never wavering from her core beliefs. We all still have so much to learn from her," said Lea-Ann Germinder, President, Germinder + Associates, Inc.
Germinder and Dr. Leininger first met when Dr. Leininger was the President-Elect of the AVMA and Germinder presented "Pets Need Dental Care, Too!" to the AVMA PR Council. Later they worked together on dozens of media interviews during Dr. Leininger's tenure as AVMA president, as spokesperson for National Veterinary Month and later as Dr. Leininger oversaw the Mark Morris and Leo Bustad Award programs for Hill's Pet Nutrition, Inc.
"It is so generous of Lea-Ann to include me as one of her Germinder20 Power of Pink Honorees! I have treasured the many years we have worked together and am grateful to call her my friend," said Dr. Leininger.  
To read the full release and the interview visit Goodnewsforpets.com.  Germinder + Associates provides strategic counsel to full service campaigns. The agency is celebrating its 20th anniversary. For more information contact Lea-Ann Germinder at 917-334-8682.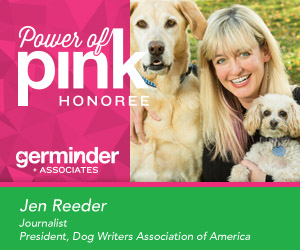 Story Focuses On A Family Legacy of Journalism & Storytelling
(Kansas City, Mo and New York – July 2, 2018) Germinder + Associates has named Jen Reeder, journalist and president of the Dog Writers Association of America (DWAA) as the sixth #Germinder20 #PowerofPinkHonoree and the first journalist to receive the award. The announcement comes immediately after the agency celebrated its 20th Anniversary Day on July 1, 2018. Reeder has designated Green Dogs Unleashed, which rescues dogs (and other animals) with special needs and trains them to be therapy dogs to receive the $1,000 Germinder Honoree donation.
In announcing the award, Germinder + Associates President Lea-Ann Germinder said, "We are thrilled to announce Jen Reeder as our first journalist Germinder Power of Pink Honoree. Jen Reeder is not only committed to excellence in journalism, she is a fantastic storyteller. She is committed to volunteerism for her profession, she has a positive and collegial approach to everyone she meets, to every challenge she takes on. It makes us work even harder for her and DWAA as our client every day."
Reeder comes from a family of wordsmiths, as she says, "I always say that I grew up 'drinking writing from two straws' because there were successful writers on both sides of my family." Her father, Tom Reeder, is a retired TV comedy writer. Her mother's father, Harrison Stephens, was a newspaper reporter and editor. Her godfather is a retired television writer, and everyone in her family is an avid reader. All have encouraged her passion for reading and writing, which go hand in hand.
"I still ask my dad for feedback on some of my bigger stories before I submit them, and he'll offer constructive criticism down to a missing hyphen. There's no question: he's made me a stronger writer. I'm grateful to have received so much love and support throughout my life," said Reeder.
In accepting the Honoree award, Reeder commented, "I am incredibly honored to be named a Germinder Power of Pink Honoree. Lea-Ann and her team at Germinder + Associates do so much for pets and pet writers – including donating $1,000 in the name of each honoree to a worthy nonprofit! I'm so grateful for all she does for the pet community and for the Dog Writers Association of America. Congratulations on twenty amazing years and cheers to the next twenty!
Germinder met Reeder when Reeder was named DWAA president and was delighted to learn of
Reeder's commitment to public relations. A public relations firm representing writers and journalists is a daunting task. It helped forge a partnership of trust during challenging times. It is exceptionally gratifying given solid relationships with journalists has been a hallmark of the firm since 1998.
 Reeder is a freelance journalist who specializes in pet and lifestyle features. Her first job writing about animals was for the World Wildlife Fund in 1994, but since then, her focus has shifted to man's best friend. Reeder's articles and essays about pets have been published by BBC News, The Daily Beast, Family Circle, Modern Dog, The Christian Science Monitor, PBS's Next Avenue, AKC Family Dog, Today.com, HuffPost, Just Labs Magazine, the American Animal Hospital Association and the Sierra Club. Her rescued dogs, Rio and Peach, provide plenty of story ideas. She is also the founder of the nonprofit Rock 1 Kidney.
###
#Germinder20 #PowerofPinkHonorees are announced and are given the opportunity to designate a $1000 donation to be made in their name through Germinder's 20th Anniversary Fund Giving Back program to a not-for-profit organization of their choice. To date Honorees named and their designated donations include Debra Horwitz, DVM, DACVB (Missouri Humane Society), Heidi Lobprise, DVM, DAVDS (Lutheran Church Charities K-9 Comfort Dogs), Elizabeth Colleran, DVM, MS,DABVP (Winn Feline Foundation), Dan Richardson, DVM, DACVS (Stormont-Vail Foundation Care Line) and Manolita Moore (The Pixel Fund). Additional Honorees will be named throughout 2018. Links to personal interviews with each honoree are also featured here.
#Germinder20 #ThePowerofPink was announced in January 2018 as part of the celebration of Germinder's 20thAnniversary Year. The women's storytelling initiative highlights the founder's story and also shines a spotlight on 20 leaders whose stories have touched and inspired Germinder to success. Initial donations have been made to The Weill Cornell Breast Center at the Weill Cornell Medical College/New York Presbyterian Hospital, an integrated, multi-disciplinary care center where Germinder was treated for breast cancer five years ago. Another recipient is the Clara Goy Foundation in memory of Germinder's brother-in-law, Gene Melleno, a girl's high school basketball coach who passed away Jan. 1, 2018. Other donations have been made to the Jan Hus Community Outreach Program in honor of Germinder's immigrant great-grandmother Marie Therese Kacin and to the News Literacy Project.
Germinder + Associates provides communications services for the pet/vet sectors and other niche industries. The woman-owned company was founded by Lea-Ann O'Hare Germinder, APR, Fellow PRSA in Kansas City and has offices in New York City and Kansas City. The company connects and consults with executives in both established companies and organizations interested in entering the vet and pet industries in the U.S.
Goodnewsforpets.com™ combines an award-winning website and social media channels to curate news of interest and importance to pet parents, veterinary professionals and the pet industry. Editorial, contests, sponsored content distribution and advertising are available.
GNFP Digital™ provides a wide range of digital services including digital audits, standard or custom infographics, topic specific modules and branded content implementation. The custom digital content development and distribution services are offered for national brands, veterinary practices and other niche markets.
Contact: 
Lea-Ann Germinder, APR, Fellow PRSA
917-334-8682
Twitter: @lgerminder or Instagram @leagerm
High-rez Reeder images and full bio available
Categories
Archives
Follow Germinder
Follow Good News for Pets