First Male Honoree Story Focuses on Mentorship; Success of Dental Campaign
 (New York – May 3, 2018) — An early love of animals and an academic family set his course. Add being mentored and mentoring and you've got the story of a successful career of firsts in veterinary medicine. For his leadership and more, Daniel C. Richardson, DVM, DACVS has been named the first male Germinder + Associates 20th Anniversary Power of Pink Honoree. #Germinder20 #PowerofPinkHonoree
Dr. Richardson is CEO Emeritus of Kansas State University Olathe and is now active consulting and on several boards and task forces. He previously was Vice President, Research; Vice President, Pet Nutrition Center; and Vice President, Clinical Nutrition and Chief Animal Welfare Veterinarian of Hill's Pet Nutrition, Inc. Prior to joining Hill's he held several academic teaching and research positions. Dan has published extensively and is an internationally recognized speaker with expertise in nutrition and veterinary orthopedics.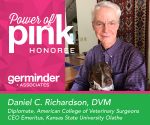 "Working with Dan was an extraordinary and special time for me, but to learn the rest of his story only shows that was just a moment in time in his exemplary career. His lengthy career is a powerful one in that it shows how he was mentored and then gave back to others. How lucky I and others are to have had, and still have the opportunity to collaborate with him and grow under his guidance," said Lea-Ann Germinder, APR Fellow PRSA, president of Germinder + Associates.
Dr. Richardson met Germinder while he was Director of Advanced Research at Hill's Pet Nutrition Inc. helping launch Hill's Prescription Diet® Canine t/d®. He introduced Germinder to the veterinary dental experts to help launch "Pets Need Dental Care, Too!" the Hill's Pet Nutrition, Inc. sponsored public awareness campaign that is credited with building the oral care category for pets. Read more about Dan's dental research and more highlights of his career in the Goodnewsforpets interview.
In acknowledging this latest recognition, Dr. Richardson said, "It is a privilege that Lea-Ann has chosen me to be one of her Power of Pink Honorees. While the recognition is a surprise, it doesn't surprise me that Lea-Ann has found yet another way to share her positive outlook on both the profession and life in general. She has worked very hard over the years, breaking new ground and building a business devoted to extolling the many virtues of veterinary medicine. Her ability to use innovative platforms and bring out the best, whether working with an individual or a group of companies and organizations, is remarkable."
Dr. Richardson has designated the Stormont Vail Foundation Care Line as the recipient of a donation from a special Germinder + Associates 20th Anniversary Fund in his honor. Stormont Vail is an integrated health care system based in Topeka, Kansas serving a multicounty region in northeast Kansas. The Stormont Vail Foundation Care Line helps meet the emergency needs of patients and their families with needs that are typically not covered by insurance after all other resources have been exhausted.
"Lea-Ann's donations associated with this honor are just another example of her positive, upbeat, lead-by-example approach to life. I, and many others, owe her a great big "Thank You" for all she's done for the profession and for being a wonderful colleague and friend!" concluded Dr. Richardson.
The Power of Pink: A Personal Story was announced in January 2018 as part of the celebration of Germinder's 20thAnniversary Year. The women's storytelling initiative not only highlights the founder's story, but also shines a spotlight on 20 leaders whose stories have touched and inspired Germinder to success. To date Honorees named and their designated donations include Debra Horwitz, DVM, DACVB (Missouri Humane Society), Heidi Lobprise, DVM, DAVDS (Lutheran Church Charities K-9 Comfort Dogs), and Elizabeth Colleran, DVM, MS,DABVP (Winn Feline Foundation) have been named as Honorees. Additional Honorees will be named throughout 2018.
Germinder + Associates provides communications services for the pet/vet sector and other niche industries. The woman-owned company was founded by Lea-Ann O'Hare Germinder, APR, Fellow PRSA in Kansas City and has offices in New York City and Kansas City. The company connects and consults with executives in both established companies and organizations interested in entering the vet and pet industries in the U.S.
Goodnewsforpets.com™ combines an award-winning website and social media channels to curate news of interest and importance to pet parents, veterinary professionals and the pet industry. Editorial, contests, sponsored content distribution and advertising are available.
GNFP Digital™ provides a wide range of digital services including digital audits, standard or custom infographics, topic specific modules and branded content implementation. The custom digital content development and distribution services are offered for national brands, veterinary practices and other niche markets.
Contact:
Lea-Ann Germinder, APR Fellow PRSA Lgerminder@germinder.com
@lgerminder
212-367-2170 Wk
917-334-8682 Cell
Graphic, photo & full Richardson bio available