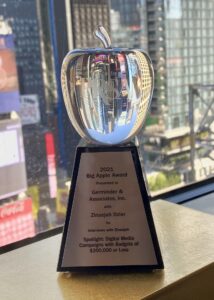 New York – October 4, 2021 — Germinder + Associates, Inc. is pleased to announce the PRSA-NY Board of Directors has won a Big Apple for the agency's "Interviews with Zinaejah" entry in the Spotlight Category: Media Relations and Content Marketing.
According to PRSA-NY, the entry made the Shortlist as a nominee for the 2021 Big Apple Awards by representing the highest standards of excellence in the PR industry. The entry was showcased amongst public relations peers across the United States during the Big Apple Awards.

Lea-Ann Germinder, APR, Fellow PRSA, Germinder + Associates President is an agency veteran and she and her teams have been recipients of many awards over the years, but this is the agency's first PRSA-NY Big Apple Award.
"Winning this award with Zinaejah is a very special moment. Her creativity combined with her interviews with diverse Black leaders I knew became "Interviews with Zinaejah." Once she completed it, having been a judge, I thought it might have a shot at taking home an award and suggested we enter it in the Big Apple awards. It was great to not only meet her in person but hear the final results together on September 28th. This project epitomizes for me what mentoring is all about," said Germinder.
Germinder + Associates, Inc. is located in New York City and Kansas City and serves several niche categories including the pet industry. The agency was founded by Lea-Ann Germinder in 1998 and has won numerous business and client service awards including the PRSA Silver Anvil Award of Excellence and IABC Bronze Quill Awards. For more information contact Lea-Ann Germinder, APR, Fellow PRSA at 917-334-8682 or Lgerminder@germinder.com.
#BigApplePR #BigAppleAwards2021 #GerminderPR