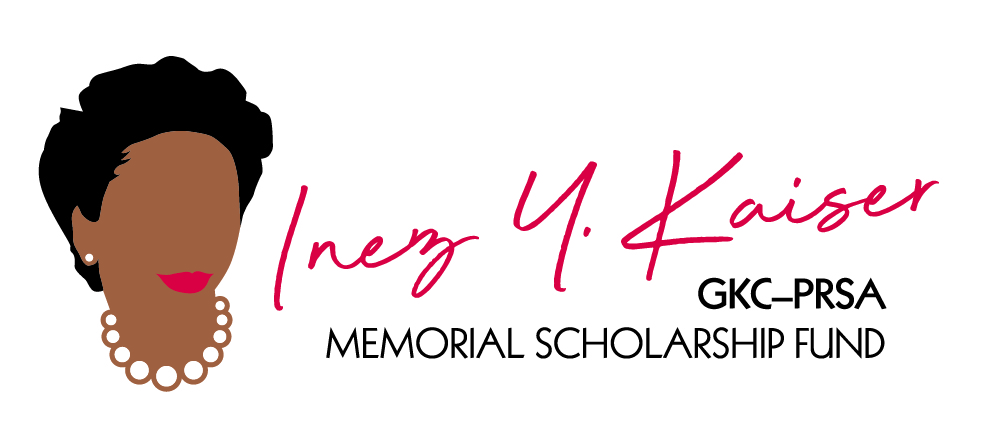 Fundraising Begins, Scholarship Portal Set to Open June 1
(Kansas City, MO – May 17, 2021) — As the celebration of its 60th anniversary year continues, the Greater Kansas City Public Relations Society of America Chapter (GKC-PRSA) has established its Advisory Committee for the Inez Y. Kaiser GKC-PRSA Memorial Scholarship Fund. Fund Co-Founder and Past-President Lea-Ann Germinder, APR, Fellow PRSA will serve as Chair. Kaiser's son Rick Kaiser will serve as Vice Chair. Fundraising has begun and a scholarship portal will open June 1. A donation link is available here. In commenting on these next steps, Germinder said:
"On behalf of the committee, we are thrilled to take this next step in honoring Inez Kaiser, a national pioneer who is one of Kansas City's own. We look forward to joining with the chapter and the Kaiser family in celebrating the scholarship honorees this fall at the annual GKC-PRSA Prism awards.
The primary duty of the committee will be to administer the scholarship, however the committee will also help raise funds and continue to tell the Inez Y. Kaiser story in coordination with the chapter.
The chapter established the initial endowment at the Greater Kansas City Community Foundation for undergraduate college scholarships this past February during Black History Month. The Fund, which the chapter hopes to increase in size by raising additional funds, is to help identify future Inez Kaisers. The first scholarships of $2,500 each will be announced at the October 21 GKC-PRSA Prism Awards.
"This is an important initiative for the chapter. To be able to celebrate the powerful legacy of a great pioneer like Dr. Kaiser and at the same time help enable future Inez Kaiser's to pursue their dreams is something I am very proud to launch in our 60th anniversary year," said Alex Miller, GKC-PRSA chapter president.
Inez Kaiser was born in Kansas City, Kansas in 1918. She was an educator first but became a businesswoman and public relations professional of many other firsts. In 1957, she founded Inez Kaiser & Associates. In 1963, she was the first Black woman to establish a national public relations firm with national clients in a Commerce bank building in downtown Kansas City – unheard of at the time. She was the first Black woman to join the Kansas City Chamber of Commerce. She soon had an impressive roster of local (e.g.Commerce Bank, J.E .Dunn Construction, Hallmark) and national (e.g. Lever Brothers, Burger King, Sears) clients.
Yet it was her passionate commitment to volunteerism that defined her. She established the Jackson County Chapter of the LINKS of which Vice President Kamala Harris is a prominent national member. Kaiser was the first Black woman to join the Public Relations Society of America in 1966. She won many local and national awards. She was an advisor to Presidents Nixon and Ford to help Black businesswomen, but crossed the political aisle when as her son says, "she voted for Obama."
"What my mother accomplished is still amazing to me. She was a great teacher, a great cook, a great businesswoman, but to me at the time, she was mama. And you didn't mess with her! I know she would be thrilled to see all of us working together to not just celebrate her, as she was in fact modest about her accomplishments, but helping others in the profession she loved," said Rick Kaiser.
The Greater Kansas City PRSA chapter is a community of public relations and communications professionals across the Kansas City area, from recent college graduates to leaders of some of the largest firms, agencies, and non-profits. Our members represent nearly every practice area and professional and academic setting within the public relations field. In addition, we support students from across the Midwest who are members of their campus Public Relations Student Society of America (PRSSA) chapters. We hold virtual and in-person events to enhance our professional growth. Our chapter also boasts signature events, such as our annual PRISM Awards gala honoring the year's best in communications excellence. At GKC-PRSA our mission is to be the professional resource and advocate for Kansas City's Communications community.
For more details, go to the GKC-PRSA website here.