Former Germinder + Associates Manager, Musician, Pet Lover Honored For Public Relations and Creative Achievements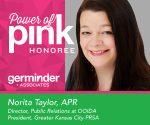 Germinder + Associates has named Norita Taylor, APR, GKC-PRSA President and OOIDA PR Director, as the twelfth Germinder20 Power of Pink Honoree to receive the award. Taylor is a former Germinder + Associates Account Manager, an accomplished musician and pet lover. She has designated the Band of Angels, a 501c3 charity that collects music instruments and provides them to children in need to receive $1,000 for her Honoree donation. To read more about her story, click here #Germinder20 #PowerofPinkHonoree
"Norita is not only an especially gifted communications executive, she's an exceptional team builder and manager of people. I am grateful for the time she spent at Germinder + Associates, how she nurtured the smallest of ideas into successful programs for our clients, how she developed her career, and how she has led the Kansas City chapter of PRSA as president this year," said Lea-Ann Germinder, APR, Fellow, PRSA, Founder and President of Germinder + Associates, Inc.
Taylor was an account manager at Germinder + Associates responsible for managing several animal health clients and campaigns in veterinary medicine. Her creative approach and team-building skills led to several GKC-PRSA Prism awards. As PR Director of OOIDA, Taylor recently won two GKC-PRSA Prism Awards for the "Speed Limiter Video" and the "OpEd for Hours of Service Regulations." In accepting this latest Germinder20 Power of Pink honor, Taylor said,
 "I would like to thank Lea-Ann for creating this program. I am humbled to be an Honoree and grateful that Germinder + Associates is making a donation to Band of Angels. Music teaches tenacity, artistry and patience.  Even though my career path is mostly about public relations and the corporate world, music is very much a major part of my life. I have always been involved in performing music in some way since childhood and have continued to do so today. I am even more inspired by the fact my son is pursuing music as well and this donation will help other children learn the joy music can bring to their lives."
 Taylor has served as Public Relations Director at OOIDA since 2007.
To read the full release click here.