Heartworm Expert Honored For Leadership Role in Veterinary Medicine and Volunteerism
Germinder + Associates has named C. Thomas Nelson, DVM, a past president, executive board member, and research chair of the American Heartworm Society (AHS) as the final Germinder20 Power of Pink Honoree to receive the award. In addition to his decades of commitment to educating veterinarians and the public about heartworm disease and prevention, Nelson is a practitioner, an active cyclist, outdoorsman and dedicated community volunteer. He has designated the $1,000 Honoree donation to the Northeast Alabama Bicycle Association (NEABA) Building Fund to drive economic development and wellness in his community. To read more about Dr. Nelson's story, click here #Germinder20 #PowerofPinkHonoree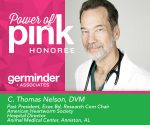 "I am so pleased to conclude the celebration of our 20th anniversary honoring another former client, an outstanding leader in veterinary medicine, and a friend. Dr. Nelson not only understands the effectiveness of educating through public relations, he respects what an agency can bring to the client-agency relationship and his dedication to volunteer leadership is extraordinary. You can't help but succeed with any initiative he's involved with, " said Lea-Ann Germinder, APR, Fellow PRSA, President and Founder of Germinder & Associates, Inc.

Germinder has collaborated with Dr. Nelson since his tenure as president of the American Heartworm Society with the launch of several initiatives. Germinder + Associates was the agency of record for the Society and Lea-Ann Germinder played a unique role with the KNOW Heartworms campaign, partnering Zoetis, (then Pfizer Animal Health), AHS and the American Association of Feline Practitioners (AAFP) with the late Jim Richards, DVM, DACVIM, AAFP spokesperson and former director of the Cornell Feline Health Center, to educate veterinarians and the public about feline heartworm. Dr. Nelson and Germinder's commitment to help educate the public about feline heartworm and feline research remains in large part as a lasting tribute to Dr. Richards's love of feline medicine.
In accepting the honor, Dr. Nelson said,
"I am deeply honored that Lea-Ann would consider me worthy of such recognition. When I think back to the KNOW Heartworms campaign, we conceptualized, received approval from three major organizations, created content, produced all the collateral material and then were able to launch a nationwide public awareness campaign all with in the span of FOUR months. I am still amazed we were able to pull it off. It was indeed a team effort of Lea-Ann, Jim Richards and me. If anyone deserves an award it is Lea-Ann and her team. She was able corral two high "D" personalities to work together and with her team we all pulled off the impossible."
Read the full release here.