Canadian Veterinarian Honored For Leadership Role in Global Feline Medicine, Communications and Digital Presence
Germinder + Associates has named Susan Little, DVM, DACVB- Feline Medicine as the only international Germinder20 Power of Pink Honoree to receive the award. In 2018 alone she has visited 19 countries, traveled 183,942 miles and lectured or attended 40 events and meetings. Little is an international speaker, author, podcast host and veterinary practice owner based in Ottawa, Canada. She is a past president of the American Association of Feline Practitioners and the Winn Feline Foundation. She has designated the $1,000 Honoree donation to the Winn Feline Foundation for feline research. To read more about Dr. Little's story, click here #Germinder20 #PowerofPinkHonoree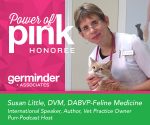 "Honoring Dr. Little is a great way to kick off 2019. Germinder is committed to communicating about best global veterinary medicine practices and Dr. Little is an exemplary ambassador of feline veterinary medicine all over the world. Her positivity inspires me and every person wherever she goes. She is a leader par excellence and certainly one to follow as she lectures, as she podcasts, and in our ever changing digital world. I'm so pleased to celebrate her as a Power of Pink Honoree," said Lea-Ann Germinder, APR, Fellow PRSA, President and Founder of Germinder & Associates, Inc.
Germinder met Dr. Little several years ago during Dr. Little's co-authoring of a feline textbook with the late Mordecai Siegal, the editor of "The Cornell Book of Cats" and one of the first columnists of Goodnewsforpets.com. Thus began Germinder's commitment to help educate the public about feline medicine and in particular feline medicine research. Germinder + Associates designed the Winn Feline Foundation logo when Little was president. The logo is still in use today.
In accepting the award, Little took a short break from her breakneck schedule and said, "I'm very honored to be a Power of Pink Honoree! Thank you so much for the recognition, I'm among an amazing group of Honorees." 
To read the full release, click here.