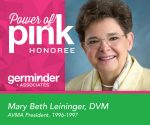 Honoree Story Celebrates Fifty-Years of Service
From Private Practice to First Woman President of the AVMA to
Industry Leader & More  
New York – July 26, 2018 — Germinder + Associates has named Mary Beth Leininger, DVM, a veterinarian for more than five decades and the first woman president of the American Veterinary Medical Association as the seventh #Germinder20 #PowerofPinkHonoree to receive the award. Leininger has designated the student scholarship fund at Purdue University's College of Veterinary Medicine to receive the $1,000 Germinder Honoree donation. #Germinder20 #PowerofPinkHonoree
"Dr. Leininger is beloved by her colleagues, she excels at everything she does, and her love of veterinary medicine knows no bounds. My gratitude to this amazing Honoree deepens with every passing year. She epitomizes all that is right with veterinary medicine, never wavering from her core beliefs. We all still have so much to learn from her," said Lea-Ann Germinder, President, Germinder + Associates, Inc.
Germinder and Dr. Leininger first met when Dr. Leininger was the President-Elect of the AVMA and Germinder presented "Pets Need Dental Care, Too!" to the AVMA PR Council. Later they worked together on dozens of media interviews during Dr. Leininger's tenure as AVMA president, as spokesperson for National Veterinary Month and later as Dr. Leininger oversaw the Mark Morris and Leo Bustad Award programs for Hill's Pet Nutrition, Inc.
"It is so generous of Lea-Ann to include me as one of her Germinder20 Power of Pink Honorees! I have treasured the many years we have worked together and am grateful to call her my friend," said Dr. Leininger.  
To read the full release and the interview visit Goodnewsforpets.com.  Germinder + Associates provides strategic counsel to full service campaigns. The agency is celebrating its 20th anniversary. For more information contact Lea-Ann Germinder at 917-334-8682.