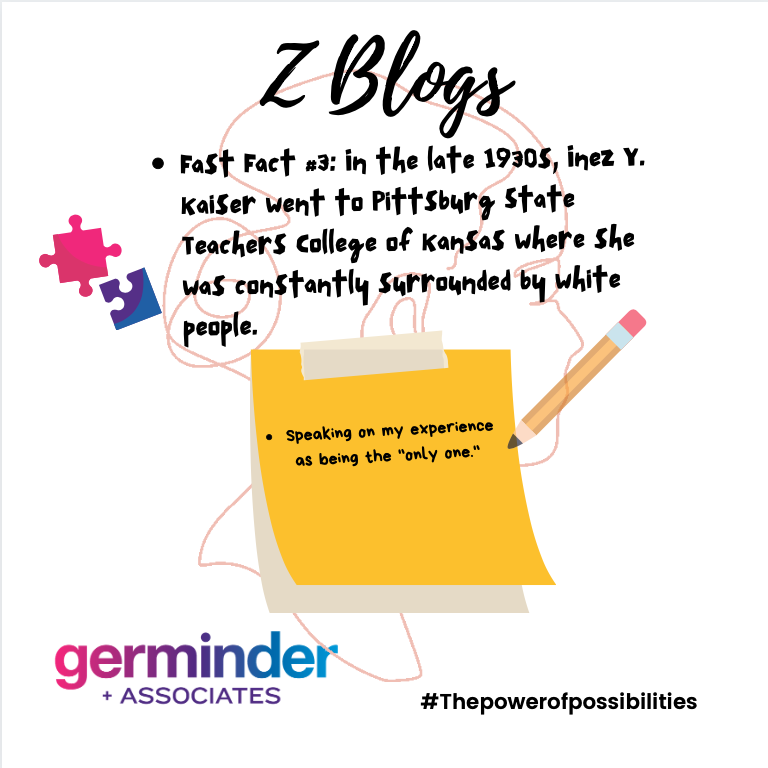 Picture this. It's 9:00am on a Monday morning. You're walking to class and you're trying your hardest to keep your head up after a long weekend of studying, social mishaps, and finding yourself. You get to class and all you see is the back of dozens of heads of people with skin not like yours. You push yourself to relate, but it's just not working…These are the thoughts that go through my head on a daily basis.
From the time I was little, I've had these experiences. Growing up in a place like Flint, Michigan then moving to the suburbs of Grand Blanc, Michigan in order to get a better education was both rewarding and scarring. Like the scraping at the knee, everything I had known before shifted into a culture that I tried so hard to mold into.
In classrooms I would sit and glance at the few brown-skinned children with puffy hair in hopes of making an automatic connection in an unknown world. Quickly, I was linked with a child like me, who's friends became my friends.
Thinking back on this reminds me of the book, "Why Are All the Black Kids Sitting Together in the Cafeteria: And Other Conversations About Race" by Beverly Daniel Tatum. Oftentimes when walking into a school setting, clusters of different races are boldly scattered around the lunch room and on the playground. My own experiences see this phenomenon as a level of comfortability. This same dynamic stands at the university level.
I sometimes question why segregated school were pronounced unconstitutional decades ago, yet we are still in school were getting a good education means going to a predominantly white school.
It can be hard attending a school where you're one of the "only ones." As a writer, I know the power of relatability and establishing relationships within a story as well as the real world. For this reason, I believe the stress endured by brown-skinned individuals all over campus can be severe. It almost seems like the lack of relatability is so normal that no one really seems to pay attention to what we have to go through. This very situation caused me to be stuck between choosing a HBCU (Historically Black College and University) and a PWI (Predominantly White Institution). On one hand, I wanted to attend a place where my people were better represented and supported in one space. On the other hand, the benefits of a PWI can be far greater when it comes to funding and great opportunities.
For the generations after me, I don't want them to have to choose. At times, choosing can be the difference between an understanding of one's mental health and a push to the side due to the normalization of being the only Black kid.
To read Zinaejah Ozier previous blog, click here.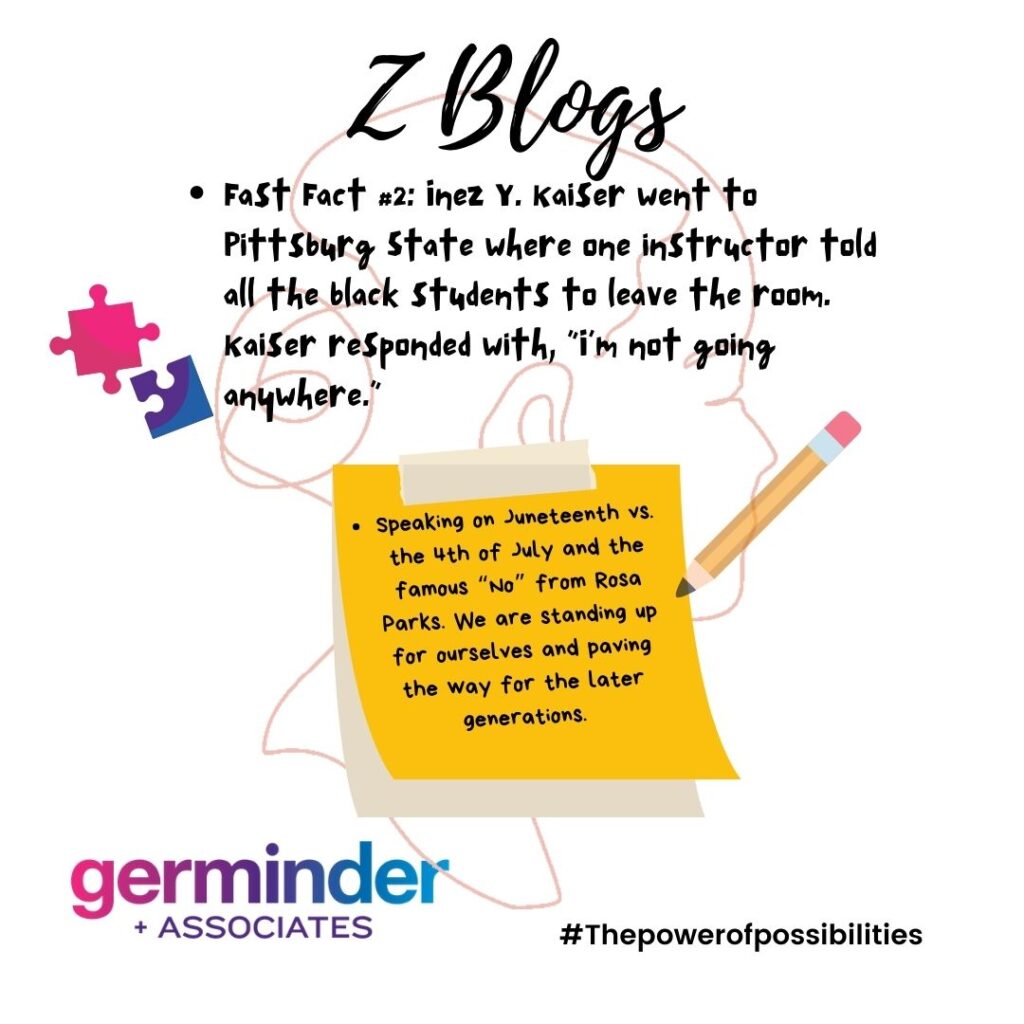 I used to sit and watch as the colorful fireworks flew through the sky and sliced through the air with a big boom or crackle. I used to love the 4th of July. Being able to stay up all night and from wherever I was, I could see beauty in the night sky, kissing the stars. 
According to Britannica, Juneteenth became a state holiday in Texas in 1980, and a number of other states followed suit. The day is also celebrated outside the United States, with organizations in a number of countries using the day to recognize the end of slavery and to celebrate the culture and achievements of African Americans.
With Juneteenth coming up, I started to think back to what else school didn't teach me. This holiday has become such an important topic with the rise in police brutality and the high demand for justice for the black community. However, I never learned about this holiday until my college years. As I stare at the Juneteenth celebrations that have gone on in other states like Texas, I crave the heartwarming gatherings that stamp the day that my people actually gained their independence from the country that claimed they were "free."
This craving got me thinking of the time when Inez Y. Kaiser went to Pittsburg State where one instructor told all the black students to leave the room. Kaiser responded with, "I'm not going anywhere." I couldn't help but picture the famous "no" stated by the one and only Rosa Parks. Year after year, generation after generation, it feels like the black community is slowly standing up for ourselves. Although I live in a country that doesn't always accept my black skin, I'm gradually watching legends like Kaiser and Parks show me that I don't have to be afraid.
I believe the same thing goes for Juneteenth. Gatherings of hundreds of Black people celebrating our true independence should become normalized. Yeah, the 4th of July is fun, but this can be too. Most importantly, it can be ours. Celebrating my black skin should be festive, and not odd. Loud, and not hidden. Simply unhidden for young boys and girls like me, who were blind to the essence of our culture due to the overbearing "American" culture that isn't even ours. I hope that one day, I won't have to say, "no" like Inez Y. Kaiser and Rosa Parks. I hope to live in a country that openly recognizes my skin and sees it as good and not bad.
Don't forget to check out Z Blog #1 on our site!
Also, don't forget about the Inez Y. Kaiser GKC-PRSA Memorial Scholarship Fund! Learn more about it here.
Zinaejah Ozier is returning to Germinder + Associates this summer with the debuts of the "Z Blog" as an extension of last summer's "Interviews with Zinaejah."  Her first post coincides with the launch of the Inez Y. Kaiser GKC-PRSA Memorial Scholarship. Details on the scholarship here.
Martin Luther King Jr., Rosa Parks, Frederick Douglass. Each of these powerful names ring an alarming bell in the heads of many across the country. Now, with the series of events that took a toll on our country in the summer of 2020, many pronounce the name of the victims who have lost their lives to police brutality and injustice with the famous hashtag, #saytheirname.
So many names spoken, yet so many names unheard of. In my return as an intern here at Germinder + Associates, I was introduced to Inez Y. Kaiser, a Black woman I had never heard of.
With my constant presence in the field of writing for almost my whole life, it surprised me that I was never taught about her. What surprised me the most was the number of things we had in common. Both Kaiser and I were part of journalism, PR, and most of all, we are Black, we are women, and we are in America.
First introduced to me by Germinder + Associates president and founder, Lea-Ann Germinder, APR, Fellow, PRSA with her initiative as Co-Founder and Chair of the Inez Y. Kaiser GKC-PRSA Memorial Scholarship Fund Advisory Committee to create a scholarship under the name of Kaiser, I wanted to be a part of this. Knowing that there was someone like me who took giant leaps in the same field as me gave me hope. 
I remember reading a piece called, "In Search of Our Mother's Gardens" by Alice Walker during my freshman year at the University of Dayton (UD). I remember taking a pause after only the first page due to the relatability of the piece. Tears of sadness and joy falling like raindrops onto the bottom of the page provided me with a deeper understanding of why I felt the way I did at times. As a Black woman in America, I am in constant search of the gardens of our ancestors who suffered, mourned, and sang deeply rooted songs to numb their pain. A pain so deep that generations later, I too can feel that pain, especially when a victim of injustice is murdered on camera.
As my main focus of the previous summer was to listen to Black professionals and get insight on their journeys, I wanted to tell my own story. My journey of entering a classroom filled with white students at a PWI. My journey of taking a leap of faith and sitting on the board of my Public Relations Student Society of America (PRSSA) chapter as the only black student in the organization. My journey of trying to navigate a world so heavily flawed, that my black skin is mistaken as blob of ignorance and anger.
Like Inez, I want to pave the road to success for aspiring young black woman after me and change the world of PR for good. I want the world to know her name. With this series I plan to share her story and mine. I want the world to not only read my words, but to feel them, just as Alice Walker and Inez Y. Kaiser did for me.