New York – July 28, 2021 — Germinder + Associates, Inc. is pleased to announce the PRSA-NY Board of Directors has selected the agency's "Interviews with Zinaejah" entry in the Spotlight Category: Media Relations and Content Marketing. Being on the Shortlist means that Germinder + Associates's support of Zinaejah Ozier's work is in consideration for a Big Apple Award or an Honorable Mention.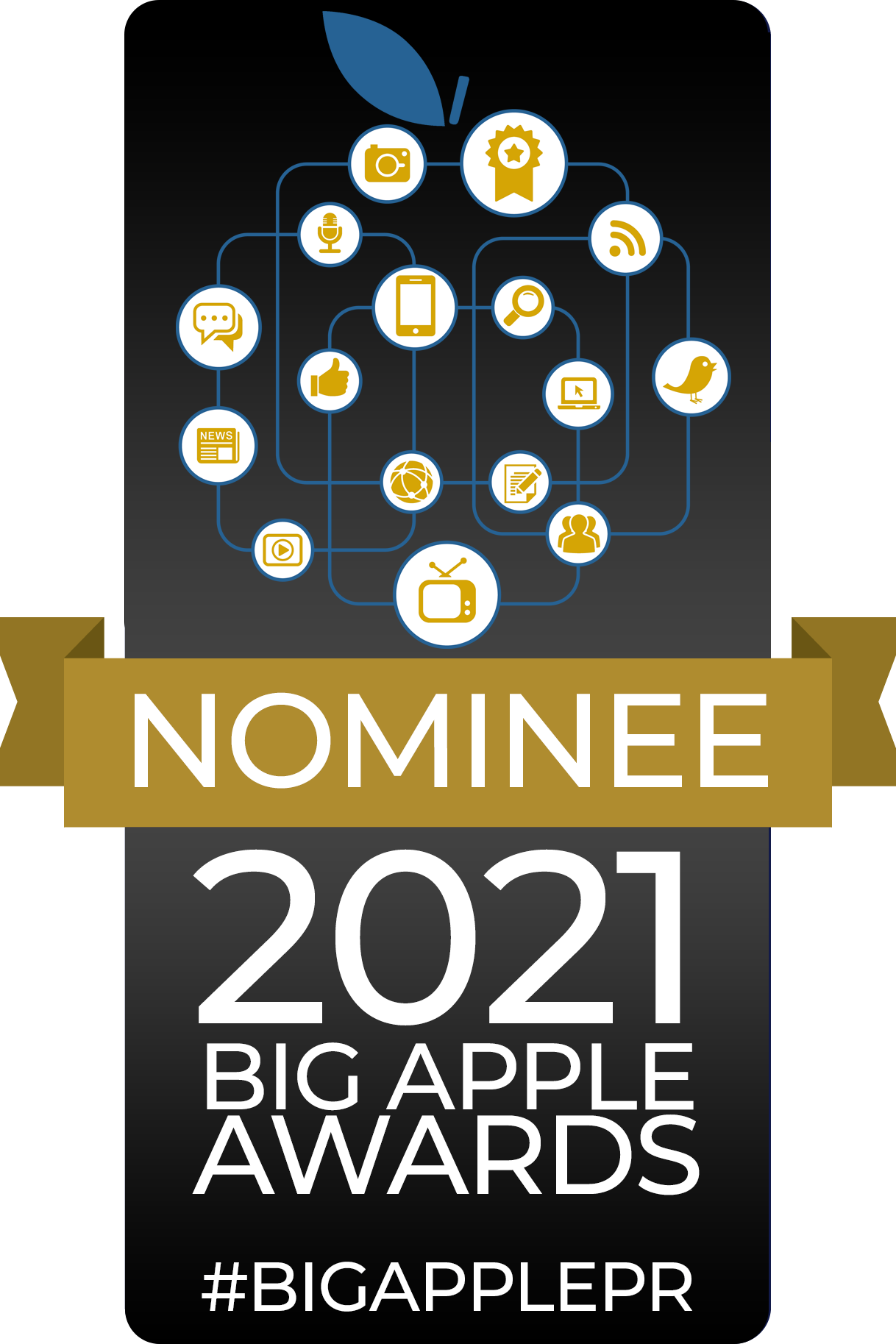 According to PRSA-NY, the entry made the Shortlist as a nominee for the 2021 Big Apple Awards by representing the highest standards of excellence in the PR industry. The entry will be showcased amongst public relations peers across the United States during the Big Apple Awards.

Lea-Ann Germinder, APR, Fellow PRSA, Germinder + Associates President is an agency veteran and recipient of the inaugural Makovsky Excellence in Mentoring award. She was looking for appropriate ways to approach the virtual agency experience during the pandemic and during the Black Lives Matter for Ozier, a young Black aspiring journalist turned PR pro-storyteller. The BLM movement was an opportunity for Germinder to listen, for the young intern to create.
"I've interviewed many students for internships over the years, but Zinaejah and her creative skills really stood out. The trick was figuring out an internship project where I could mentor her and yet she could still call it her own. With her creativity, interviews with diverse Black leaders I knew became "Interviews with Zinaejah." Once she completed it, having been a judge, I thought it might have a shot at taking home an award and suggested we enter it in the Big Apple awards. Now we shall meet in person for the first time and hear the final results together on September 28th. No matter what the end result — this project epitomizes for me what mentoring is all about," said Germinder.
For her part, Ozier is looking forward to spending time in New York, her first trip to the Big Apple.

"I really enjoyed conducting my "Interview with Zinaejah" series and to have it be nominated for an award is truly a blessing. Not only that, it shows me that hard-work pays off…even if it's a year later! I'm so excited to travel to NYC for the first time, see Lea-Ann for the first time, and enjoy a night of awards. Even If I don't win any, I've already won this amazing experience."
Germinder + Associates, Inc. is located in New York City and Kansas City and serves several niche categories including the pet industry. The agency was founded by Lea-Ann Germinder in 1998 and has won numerous business and client service awards including the PRSA Silver Anvil Award of Excellence and IABC Bronze Quill Awards. For more information contact Lea-Ann Germinder, APR, Fellow PRSA at 917-334-8682 or Lgerminder@germinder.com.
#BigApplePR #BigAppleAwards2021 #GerminderPR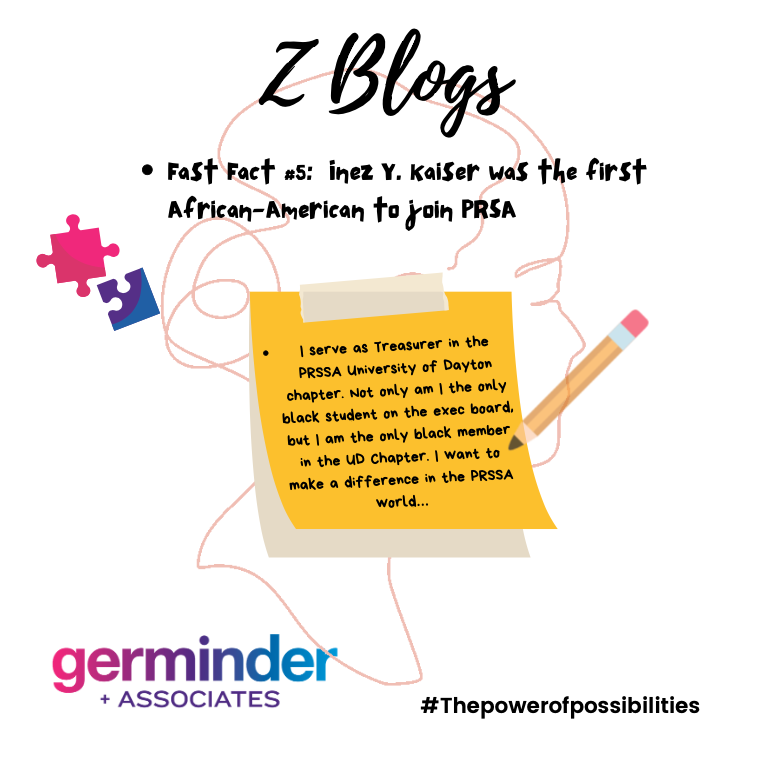 I'm just a young, Black woman. What difference can I really make? I find myself asking this question to the girl in the mirror constantly. My smile slowly fading to a minimal grin as I stare back at someone who's just one person.
The lack of diversity within the classroom has always been something I've noticed since I was a kid. Now, in college, it amazes me how much this hasn't changed. Serving on the executive board of Public Relations Student Society of America (PRSSA) at the University of Dayton, I often feel like there's something more I need to do in the world of public relations.
When I first entered the public relations (PR) world in my second semester of sophomore year, I wasn't shocked to see that I was the only black kid when walking into the room. After all, I attend a predominantly white institution. Now, when dealing with internships and learning about the world of PR, I constantly hear about the lack of diversity around the world in this career field.
Hearing this statement in the midst of working on an initiative like the Inez Y. Kaiser GKC-PRSA Memorial Scholarship Fund has given me the motivation to want to push forward diversity in the workplace.
That girl who stares back at herself and wonders what change she can make in the world gains her smile back.
Women like Inez Y. Kaiser and any other modern women in communications who have had "firsts" probably had the same thoughts. No, we can't change the world as one person. However, we can make a difference with the small stepping stones we make.
From graduating from college to breaking stereotypes, I have found that being a Black woman in the professional world in and of itself sets me up to be a trailblazer. For too many years we've only seen success as white or male. Looking at Kaiser accomplishing something like launching a firm with national clients as a Black woman is inspiration alone.
I may not be able to completely turn around the world of PR but I can start somewhere. Simple things like being on the exec board of PRSSA and using my voice on that platform is something.
Advocating for change and even hoping for change somehow gives the earth a little push on its axis even further. I can't wait to see what all I can accomplish with just the girl in the mirror.
Check out this video created by Zinaejah Ozier that emphasizes Inez Y. Kaiser and other modern trailblazers in communication.
Qualifying students can apply for the Inez Y. Kaiser GKC-PRSA Memorial Scholarship Fund now! 
We all have talents. A lot of us have jobs, but outside of those jobs, our hobbies and down-time activities host some of our most powerful gifts. It's the things we're most passionate about that will make the greatest impact in this world.
I saw this with Inez Kaiser. With roots in journalism she used those writing and communicating skills and transferred that into her journey in the civil rights movement with getting messages across and creating an impact. I want to do this for myself as well.
Whenever I think of things I'm passionate about, I immediately think of the Black story. More specifically, my story. Growing up in a world where having beautiful hair meant you were mixed with something or where the use of proper English made me "better" than other black girls oddly encourages me. 
My second passion of writing and storytelling drives me to tell my story to the world in a creative way.
I used to hate my story. I used to be embarrassed to be from a place like Flint, Michigan. I use to hate having to explain to people that I grew up without my biological mother in my life. All of the things that represent the life of a stereotypical black family was simply embarrassing to me to talk about. However, that's when I learned exactly why I should love my story.
The story is the journey. The journey is what makes us who we are. We are everything that our story is and that is why telling that story is so important, no matter who you are.
When I first started writing, I was hit with the hard truth of, "You can't become better without reading." As I progressed with my writing and reading skills, I discovered the power of a story. Whether a fairy-tale or a revealed truth within a real-life story, the story itself is something that resonates deep within me.
Being a future public relations professional, I often think of the impact I can make. That impact includes helping to pave the way for more people like me, just like Inez Kaiser did and telling my story in a creative way in order to showcase all that one can become despite everything they had to do and go through to get where they are today.
Don't forget about the Inez Y. Kaiser GKC-PRSA Memorial Scholarship Fund! Learn more about it here.